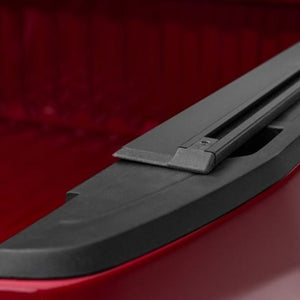 TruXedo Elevate TS Rails - Full Size X-Short Bed (63")
TRX1118358
(
5 in stock
)
Regular price $239.99 Sale
Choose Elevate TS Rails (T-Slot) that best match the length of your truck bed. Once installed, just slide the rack into the integrated T-Slot channel and you're done. The unique feature of the Elevate TS Rails is that they are the connecting piece to your T-Slot rack and your inside mount truck bed cover. TS Rails are made in the USA and come backed by a limited lifetime warranty.

Elevate TS Rails (T-Slot)
Works with a variety of T-Slot equipped racks and inside mount truck bed covers
Robust aluminum construction with a durable, textured powder-coat finish
Accepts a wide assortment of tie downs, baskets and cargo accessories
Installed in minutes with no drilling or special tools
Includes set of 4 tie-downs
Fits: 

 63

-inch bed
Made in the USA
Limited lifetime warranty
MPN:  1118358
Warranty
Elevate TS Rails come backed by a limited lifetime warranty, which warrants that all new products are free from defects in material and workmanship. This warranty is effective if the product is properly installed and used for the purpose intended and applies to the original buyer only. TruXedo, Inc.'s obligation under this warranty is limited to the repair, or at its option, replacement of any part returned, transportation prepaid, to TruXedo, Inc., Yankton, SD, if the product is, in our judgment, defective.
Installation
Please feel free to make use of the Elevate TS Rails installation instructions below to assist you with the installation of the rails. You will find printed installation instructions to help guide you through the simple process.
Elevate Rails Installation Guide
Fitment
To verify if your truck is compatible with the Elevate TS Rails, check the Complete Compatibility Chart.
Note:  Elevate TS Rails are incompatible with trucks equipped with factory track systems.
2014-2018 Chevrolet Silverado 1500 69.3 Bed
2019-2020 Chevrolet Silverado 1500 69.9 Bed
2009-2010 Dodge Ram 1500 67.4 Bed
2004-2005 Dodge Ram 1500 75.9 Bed
2006-2008 Dodge Ram 1500 76.3 Bed
2002-2003 Dodge Ram 1500 78.0 Bed
2009-2014 Ford F-150 67.0 Bed
2015-2020 Ford F-150 67.1 Bed
2014-2018 GMC Sierra 1500 69.3 Bed
2019-2020 GMC Sierra 1500 69.9 Bed
2017-2019 Nissan Titan 67.0 Bed
2011-2020 Ram 1500 67.4 Bed
2019 Ram 1500 Classic 67.4 Bed
2007-2020 Toyota Tundra 66.7 Bed