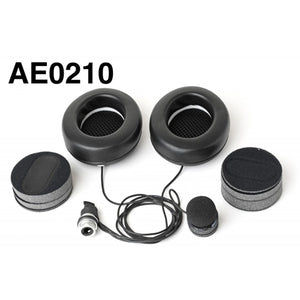 Stilo Rally Electronics Kit (Helmet Microphone and Speakers)
STIAE0210
(
5 in stock
)
Regular price $143.95 Sale
The Stilo Rally Electronics Kit is your key to communications while wearing a Stilo helmet.  The microphone is an upgraded magnetic-dynamic microphone, and the kit comes with the passive noise attenuating ear muffs with integrated loudspeakers.

The ear muffs will significantly cut down on the noise level. This is great for anyone driving a very loud car, or at high speeds with the windows open. The magnetic-dynamic microphone does a better job of picking up your voice, and not the surrounding ambient sound. This helps you to easily communicate with your team, which can be vital for your performance on track.
Designed for full face helmets
This is the standard Stilo mic and ear cup speaker kit for the Stilo ST5 GT helmet
Upgraded magnetic-dynamic microphone
Noise-attenuating ear muffs with integrated loudspeakers
MPN: AE0210
Fitment
SA2015 and SA2020 Stilo ST5
Note: The Stilo Helmet Wiring Kit uses the side port on your Stilo helmet to mount a female receptacle into your Stilo helmet.  If your Stilo helmet has side ports this is your wiring kit.