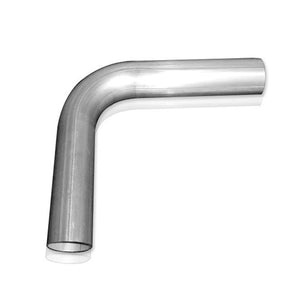 Stainless Works 90-Degree Mandrel Bend
SWOMB90200
(
2 in stock
)
Regular price $31.95 Sale
Smooth, wrinkle free bends are great for custom fabrication.  Stainless Works 90-degree mandrel bends are made from 304 Stainless Steel with a mill finish.  These 90-degree bends are available in the following sizes:
MPN:  MB90200 (2" with .065 wall)
MPN;  MB90250-H (2-1/2" with .065 wall)

MB90300 (3" with .049 wall)

MB90300-H (3" with .065 wall)
Note:  The current stock quantity will be visible on each size.  Click on the size you need, then check the stock quantity above the price.
Specifications
| | |
| --- | --- |
| Product Type | Tubing |
| Tubing Style | 90º Bend |
| Size | 2" |
| Wall | .065 |
| Legs | 6" |
| Transition | No |
| Material | 304 Stainless Steel |
| Finish | Mill |
| Make | No |
| Model | No |
| Year | No |
| Engine | No |