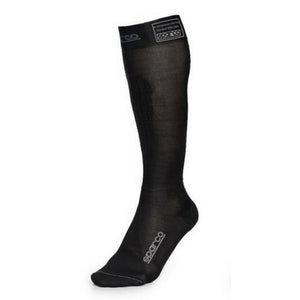 Sparco Shield RW-9 Compression Socks - FIA
SCO001512NR11
(
Not in stock
)
Regular price $75.00 Sale
The Sparco Shield RW-9 Compression Sock is the only FIA approved compression sock on the market. It uses a seamless construction that delivers Class 1 compression force. This graduate compression force uses the same principles used in action sports. The RW-9 sock exerts maximum pressure at the ankle and then decreases going upwards towards the calf, to facilitate the upward return of blood circulation. This compression force is proven to minimize muscle fatigue to improve driver comfort and focus.
The Sparco Shield RW-9 line of Nomex® undergarments provides the highest level of breathability, comfort and protection. Shield RW-9 uses a seamless construction with ultra-soft stretchable material. Three are two different woven materials in key areas; thin stretch Nomex® for comfort and mobility as well as a double perforated Nomex® for increased breathability and ultimate comfort. The minimal seams are stitched flat with thin specialized thread for added comfort. All Shield RW-9 pieces are treated with Sparco X-Cool Silver which draws heat from the body surface to cool the driver. In addition to cooling the driver, X-Cool Silver treatment has an anti-bacterial effect.

WHY A COMPRESSION SOCK?
To improve driver focus and comfort
Proven effective in sports use
BENEFITS?
Minimizes muscle fatigue
Increase in oxygen delivery
Decrease lactic acid
Prevents cramps
TECHNOLOGY
Seamless stretchable Nomex in key areas for mobility
Perforated knit in key areas for breathability
Designed for comfort in a driving position
Minimal external seams increase driver comfort
X Cool Silver draws heat from the body surface to cool the driver
X Cool Silver has anti-bacterial effect
Available in white or black
FIA 8856-2000 rated