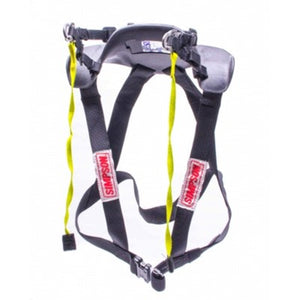 Simpson Hybrid Sport with Seat Belt Anchor System
SIMHSSML11SAS
(
3 in stock
)
Regular price $678.95 Sale
Simpson Hybrid Sport with Seat Belt Anchor System and QR Tethers
The Hybrid Sport head and neck restraint from Simpson is lighter and sleeker with defined wings for seat belt containment. This head and neck restraint weighs 20% less than previous models due to advanced carbon/polymer construction. Sliding tethers and a patent pending multi-tether system improves side-to-side movement and field of vision.  This head and neck restraint meets stringent SFI 38.1 specifications.  
Seat Belt Anchor System
Quick Release Tethers
Includes D-Ring Helmet Anchor 
Sizes: XS (32"-36" chest), Small (36"-40" chest), Medium (40"-44" chest), Large (44"-48" chest), and XL (48"-52" chest)
SFI 38.1
SKU
Part Number
Size
Chest

HS

SML

11SAS

HS.SML.11.SAS
Small
36-40"

HS

MED

11SAS

HS.MED

.

11.SAS

Medium

40-44"
HSLRG11SAS
HS.LRG.11.SAS
Large
44-48"