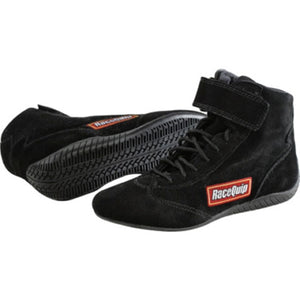 RaceQuip 303 Series Mid-Top Race Shoes
RQP30300080
(
27 in stock
)
Regular price $89.99 Sale
The RaceQuip 303 Series SFI racing shoes feature a soft suede leather outer layer coupled with a flame retardant Pyrovatex® liner and padded ankles. The unique Achilles flex opening in the back of the shoe allows easy foot extension for full-throttle action. The durable construction features a reinforced lace area, double-stitched seams and a molded rubber sole that rolls up the back of the shoe to provide extra support for your heel while driving.
Exceeds SFI 3.3A/5 rating
Available in Black, Men's Sizes 8-13
Sizing
RaceQuip auto racing shoes fit about like any other athletic shoe except that the outside of the shoe around the toe is a little more narrow so your feet have pedal clearance in the footbox. The shoes are sized in US Men's sizing, but remember that you will typically wear racing shoes with a thick Nomex® sock so you may want to go up one half or one full size from normal.

For women's sizes, add 1.5 to the listed men's size to get the women's equivalent or subtract 1.5 from the women's size you normally wear to find the men's size listed in our chart.

If you normally wear a wide shoe, we suggest you go up at least a half size if not a whole size. RaceQuip driving shoes are made with a suede leather outer so they will stretch to mold your foot after about two or three days of use. The 303 Series Shoes will stretch a little more than the 305 Euros because the 305s have the Carbon-L wear pads. As a last resort, if necessary, you can remove the insole from either of the RaceQuip shoes to allow more room. They won't be nearly as comfortable to walk around in, but it will create more height and width for your foot inside the shoe.
Available Sizes
| | |
| --- | --- |
| US Men's Size | SKU |
| 8 | 30300080 |
| 9 | 30300090 |
| 10 | 30300100 |
| 11 | 30300110 |
| 12 | 30300120 |
| 13 | 30300130 |
Details

| | |
| --- | --- |
| Brand | RaceQuip |
| Product Line | 303 Series |
| Style | Mid-Top |
| SFI Rating | 3.3/5 |
| Logo Style | RaceQuip |
| Liner Material | Fire Retardant Lining |
| Material | Suede |
| Color | Black |
| Quantity | Pair |