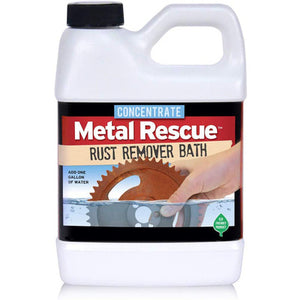 Metal Rescue Rust Remover Bath Concentrate - 64 oz.
WSH64-MRC
(
1 in stock
)
Regular price $99.95 Sale
Metal Rescue Rust Remover Bath Concentrate from Workshop Hero is clean, safe and an easy way to remove rust. It is a water-based, non-toxic, non-hazardous rust remover liquid for iron and steel. Metal Rescue concentrate is simple to mix and simple to use -- just soak, check and rinse your metal parts. Parts can be restored in 10 minutes up to 48 hours, depending on the amount of rust, type of metal, and temperature of the liquid. In addition, metal rescue is biodegradable, environmentally friendly and safe on skin. Metal Rescue is safe on everything except rust.
Rust preventative
Dry coat
Safe on skin
Water based
Non-acidic
Reusable
Concentrate
64 oz bottle
MPN:  64-MRC