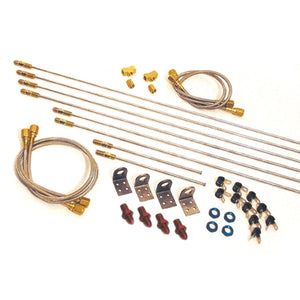 Longacre Complete Brake Line Kit - #4 AN
LON52-45216
(
3 in stock
)
Regular price $199.95 Sale
The Longacre #4 Complete Brake Line Kit has all of the parts needed to do the entire car.
Includes four (4) SS braided lines to go from the chassis to the wheels, an assortment of pre-flared bendable steel chassis lines, connectors, fittings, frame tabs, Adel clamps, wire ties. It has enough parts to do almost any car from a midget to a Sprint Cup car (order caliper fittings separately).
Note: NOT For Street Driven Cars
Minimum Bending Radius 2"
Steel Braided Brake Lines
Longacre brake lines use stainless steel braided Teflon line with permanently swedged fittings installed on both ends to help eliminate spongy pedals. Use with any brake fluid. 2500 psi working pressure. #4 AN fittings on both ends.
Braided Brake Lines
 

Outside Material:

Stainless steel braided

 

Inside Material:

Teflon® lined hose

 

Hose Size:

#4 AN

 

Ends:

#4 AN female

 

Length 1:

18" (2 each)

 

Length 2:

24" (2 each)

Hard Lines
 

Material:

Steel

 

Size 1:

3/16" x 8" (3 each)

 

Size 2:

3/16" x 20" (3 each)

 

Size 3:

3/16" x 40" (4 each)

Fittings / Hardware
 

Union:

3/16 IFF x 2 (4 each)
#4 AN x 3/16 IFF Red with nut (4 each)
 

Tee:

3/16 IFF x 3 (2 each)

 

Frame Tab:

90º (4 each)

 

Adel Clamps:

3/16" (12 each)