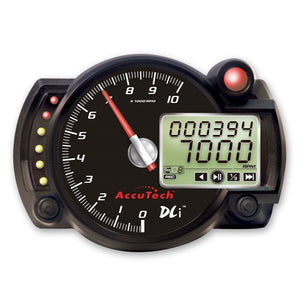 AccuTech™ DLi™ 'Stepper Motor' Data Logging Tachometer
LON52-44390
(
3 in stock
)
Regular price $399.99 Sale
The AccuTech™ DLi™ 'Stepper Motor' Data Logging Tachometer is a huge step beyond basic memory tachs that simply record the highest RPM. It records the RPM 10 times/second, all the way around the track, to be played back for you in the pits. See all the highs, the lows, and everything in between for multiple laps, the entire race if you want. You can see what the RPM was at any point on the track - the middle of the corner, the exit, halfway down the back straight, etc. See if you lost traction (RPM spikes slightly) or if the motor was falling off at high RPM (rate of climb slows). And when you just need a traditional Memory Tach it does that too. Stepper Motor design gives you precision accuracy and reliable performance week after week. This Data Logging Tach is like a movie rather than just a snapshot by a traditional Memory Tach.
Records RPM all around the track - Replay in the pits
Records & stores up to a full hour, in multiple session
Easy playback at real time speed, 1/3 speed (to spot rapid changes in RPM), or double speed (to watch a full lap quickly)
You can even pause and back up to see something over again
In replay mode the

 

digital timer

 

lets you track when & where the RPM was recorded on the track
This tach is compact and lightweight
Numbers are LED back lighted & the pointer is illuminated
Digital display shows max RPM
Will work on most non-magneto ignition systems - 4, 6, or 8 cylinder
Easy to use and recall
Tach does a

 

"presentation"

 

self test at turn-on - It goes through a full pointer sweep and turns on all LEDs
MPN:  52-44390
Additional Functions
A

 

2 stage High RPM warning light

 

helps prevent over-reving expensive motors. Set one just above normal max RPM, the second at the redline. Can also be used as a 2 stage shift light.
6 LEDs on the left side can be set to indicate

 

pit road speed

 

limit. Set at the RPM you want. The first one comes on 500 RPM lower, the second at 400 RPM lower, etc. - until all 6 are on. This gives you more of a warning than just 1 or 2 set points. This can also be used as a

 

sequential shift light.
Specifications
| | |
| --- | --- |
| Brand: | AccuTech™ DLi™ |
| Style: | Stepper Motor |
| Type: | Tachometer |
| Range: | 0-10K RPM |
| Memory: | Yes |
| Playback: | Yes |
| Max Record Time: | 1 hour |
| High RPM Warning Light: | 2 stage |
| Size: | 4" |
| Depth: | 2" |
| Face Color: | Black |
| Bezel Color: | Black |
| Backlight: | Yes |
| Pointer Color: | Red LED illuminated |