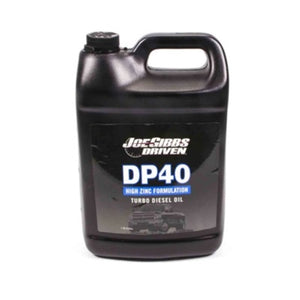 Driven DP40 5W-40 Synthetic Diesel Oil - 1 Qt
JGP02508
(
8 in stock
)
Regular price $52.95 Sale
Driven DP40 5W-40 Synthetic Diesel Oil delivers the first synthetic performance diesel oil formulated from Ultra High Viscosity Index base oils for high performance turbo diesel engines. DP40 features a high zinc content to protect flat tappet camshafts, and the advanced synthetic formula delivers fuel economy and high temperature protection from viscosity breakdown. Not every high performance engine burns gasoline. Turbocharged diesel engines require robust anti-wear protection. These high output engines need defense against high temperatures. Joe Gibbs Driven DP40 delivers enhanced film thickness as well as increased anti-wear additives. Ideal for tuned turbo diesel engines and for tow vehicles.
High Zinc Content - Higher level of Zinc (ZDP) delivers proper anti-wear protection for high output engines and flat-tappet camshafts
Extra Film Thickness - Advanced synthetic technology for greater film thickness under high temperatures and high loads. Ideal for diesel engines
Thermal Stability - Defends against Turbo coking, oil consumption and viscosity breakdown
Storage Protection - Defends against moisture drawn into the engine by modern bio-blended fuels. Utilizes a tenacious oil film technology developed for the U.S. military. Ideal for tow vehicles.
Delivers enhanced film thickness as well as increased anti-wear additives
Defense against high temperatures
Applications: High performance diesel engines and tow vehicles
5W-40
1 Gallon
MPN:  02508