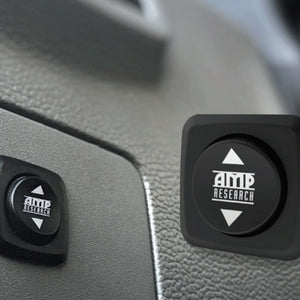 AMP PowerStep Override Switch without Controller
AMP79106-01A
(
4 in stock
)
Regular price $59.99 Sale
The AMP PowerStep Override Switch without Controller allows you to manually control your PowerStep with an in-cab switch. This switch gives you full control of your PowerStep.  You may want to retract the PowerStep, or lower it down for washing. Now the choice is yours. The switch is easily installed and then wired directly to the PowerStep controller.
With the PowerStep switch, you have three options:
Retract (Up) keeps the steps up and out of the way regardless of what you do with the doors
Automatic (Middle) allows the steps to be automatically activated by lowering when the doors are open and retracting when the doors are closed
Override Deploy (Down) keeps the steps ready for use, regardless if the doors are open or closed
MPN: 79106-01A
Features
Three switch positions (Up, Automatic or Down)
Easily installed on dash
Gives you manual control of PowerSteps
Note: This is the AMP Override Switch without controller (for use on new steps with new controller.
  California Residents: Proposition 65 warning