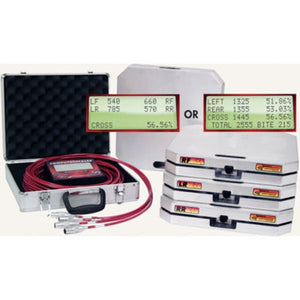 Longacre Computerscales® AccuSet II™ Basic System
LON52-72593
(
33 in stock
)
Regular price $1,399.95 Sale
The new, improved AccuSet II Computerscales feature a slanted display for easier reading. It is simple to set up and use; push a single button for all four wheel weights and cross weight, and push a second button for all partial percentages. Sold complete with satin finished LMF (Liquid Metal Forging) scale pads, heavy-duty red HiFlex cables with billet AN connectors, and heavy-duty silver carrying case.  Covered by a 2-year limited warranty.
Simple to use
Push 2 buttons to get everything you need! Push one button for all 4 wheel weights plus Cross Weight. Push a second button for all partial percentages.
Baseline Memory Recall
Store your baseline setup in memory, then instantly recall it to compare the current set-up.  This will save you time from writing it down and then cross-referencing.  This 1-slot memory is really handy and saves time.
Heavy duty Red HiFlex cables with Billet AN connectors
Face is slanted for easier viewing
Four (4) satin finished 15" x 15" x 2½" low profile pads with 1500 lb. per pad capacity and convenient carrying handles
Includes Silver carrying case for electronics and cables
2-year limited warranty
Satin Finished Scale Pads 
These pads are flat to within .010" and have internal webs to minimize deflection for accurate setups. (Set of 4 included)
15" x 15" Scale Pads, 1,500 pounds capacity
Specifications
 
Control Box
 

Model:

AccuSet II™

 

Memory:

1 slot

 

Batteries:

6 AA

 

Cables:

Red

 

Connectors:

Billet AN w. gold-plated contacts

 

Cable Length:

20 ft

 

Case:

Silver

Pads
 

Size:

15" x 15" x 2 1/2"

 

Capacity:

1500 lb per pad

 

Finish:

Satin finish

 

Load cells per pad:

1
California Residents: Proposition 65